Starting Good Oral Habits Early
Much of the tooth decay on children's teeth before three years of age can be prevented by educating parents on the importance of proper diet and dental hygiene.
The Alberta Dental Association recommends that an infant visit the dentist after their first tooth grows in. At The Tooth Doctor, we feel that in some cases that may be a bit early.
However, when a child's first dental visit is put off until their third birthday or even later, two years of improper dietary and oral care habits can have a devastating effect on a child's oral health, and how they will react to dental visits in the future.
This offer was developed to help prevent early decay and help kids get used to visiting the dentist without fear.
The Tooth Doctor is offering no charge dental examinations for children until their third birthday. This is usually when a child will tolerate getting their teeth cleaned in the office.
These visits will be as much for parents as it is for the children. The focus being on proper diet habits, educating on improper or damaging oral habits and the parent's role in maintaining their child's oral health with daily toothbrushing.
These appointments are designed to be short and easy for your child, so they will feel comfortable having the dentist look at their teeth.
Your child will be introduced to one of our amazing doctors, who will provide an exam and give their recommendations.
A free fluoride varnish treatment will be applied at the end of the visit (if your child is willing). If the doctor sees the need for further x-rays or dental care, these services will be charged using our regular fees.
Help us help your child by getting them started off on the right foot – schedule your free exam today using the button below.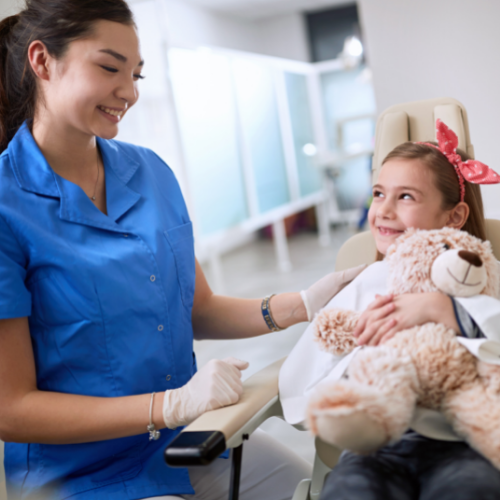 Contact Us
Emergency Dental Care
Our office has extended weekend and evening hours. Our staff provides our patients with the prompt treatment they need, when they need it.
** Free Before Three Details ***
Offer valid for the patient's initial exam and following recall visits until the patient reaches their 3rd birthday. After the child's 3rd birthday, there will be charged for any dental care under our fee schedule.
Offer includes the consult exam, fluoride varnish treatment and assessments. IF there is any decay determined to be present, recommended x-rays and/or dental treatment will be charged utilizing our current fee schedule.
Limited availability each month. Call to schedule or leave a response and our office will contact you to schedule your child's visit.
Drs. Yoo, Wong, Zhang, Singh and Lowe reserve the right to alter and/or remove the "Free Before Three" program at anytime.
Schedule your appointment Now