Emergency Dental Care & Much More
Just like your vehicle requires regularly scheduled maintenance to make sure it is operating at peak performance, good oral health requires ongoing scheduled maintenance. By visiting the dentist regularly and taking care of your gums and teeth between checkups you ensure your oral health is in tip top condition.
The Tooth Doctor wants to make sure you get the most out of your visits at any of our offices and that your teeth are healthy and strong for a lifetime. Our professional and friendly staff are trained to provide complete dental care and show you how to provide self-care at home to maintain your smile with the right dental products for you and your family.
Should you require emergency dental care, please call our offices.
Contact Us
Emergency Dental Care
Our office has extended weekend and evening hours. Our staff provides our patients with the prompt treatment they need, when they need it.
General Dentistry
The Tooth Doctor's Edmonton dental office, Ellerslie dental office and our Tofield dental clinic offers general dentistry services.
Our general dentistry practice provides all standard services delivered in a friendly and professional manner. Regular dental checkups are an important part of maintaining your oral health. During your regular checkup, we will:
Check for any problems or issues that are not easy to see or feel
Look for signs of tooth decay or cavities
Inspections of your teeth and gums and signs of bone loss/disease
Provide a thorough teeth cleaning, rinse, and polish
Repair cracked/broken or worn down teeth
Provide tooth fillings or other dental care
We use the most dependable tools and techniques to ensure a thorough and satisfied experience.
With dental decay we use SNOOP, a caries detection dye to help us stain infected tooth structure and help preserve vital enamel/dentin.
Dental For Children
Kids love The Tooth Doctor! We are a kid-friendly dental office and emphasize providing the highest quality dental experience for children. When young children have positive dental experiences, they tend to not develop fears around dental visits into their teens and beyond, and it sets them on the path to continue to seek preventative dental care as adults.
In order to achieve this, The Tooth Doctor has a kids area at each dental office, TVs at each dental exam chair for distraction and children-specific appliances such as T4K appliances, which is ideal for children with crooked teeth, developmental issues or who tend to breathe primarily through their mouths.
We recommend that your child's first dental visit should occur within six months after the presence of the first tooth or by their first birthday. The reason we do this is because early oral examination aids in the detection of the early stages of tooth decay.
Early detection is essential to maintain oral health, modify aberrant habits, and treat as needed and as simply as possible.
Dental Implants in Edmonton
The Tooth Doctor provides dental implants to our patients who want to fix missing teeth or replace uncomfortable dentures. Dr. Yoo prefers dental implants instead of removing good tooth structure to make a dental bridge. Dental implants look natural and greatly restore your smile. Dental implants are very strong, stable and last many years with the occasional re-tightening or replacement due to normal wear.
Dental Crowns & Dental Caps
Dental Crown or Dental Cap treatment is a long-term method of replacing missing teeth. A dental crown (or dental cap) is placed over an individual tooth where there is no longer enough tooth structure left to place a filling. There are three types of dental crowns that The Tooth Doctor Edmonton provides our patients: gold, porcelain with metal and porcelain-only. Some of the reasons one considers dental crowns are:
to restore the ability to chew or speak properly
to maintain the shape of your face
to distribute the forces in your bite properly by replacing missing teeth
to prevent remaining teeth from shifting out of position
Oral Sedation
Dental anxiety and fear keeps millions of patients from visiting their dental office every year. For some patients, local anesthesia is simply not sufficient to overcome the psychological factors of dental treatments. In these cases a sedative is often used to put them at ease during dental treatment.
Conscious sedation is a great way to treat dental anxiety and allow The Tooth Doctor to work on your teeth. It allows the patient to enter a state of relaxation while staying awake during the procedure, allowing you to respond to your dentist's questions and requests.
Our Edmonton dental clinic uses oral sedation methods which produces a light to moderate effect, depending on the strength of the prescription. Oral sedation usually comes in the form of a pill taken up to an hour before the procedure.
You may experience some drowsiness but you will still be able to respond to your dentist's requests. Recovery time is a little longer and you should consider an escort to drive you home. Reasons to consider oral sedation are:
You have a low pain threshold
High teeth sensitivity
A severe gag reflex
Require large amounts of dental work completed
Plain old nerves
Emergency Dental Care 
Emergency dental care situations can occur at any given moment. Too many people wait too long with oral pain, thinking that it will pass only to have it flare up at the least convenient time.
The Tooth Doctor has extended open hours in the evenings and weekends to accommodate emergency dental care. The Tooth Doctor also has an after-hours number available for when you need us most. Dr. Yoo and the staff make sure to provide our patients with prompt treatment when they need it and are well trained to handle all emergency dental situations.
We understand that when a dental emergency strikes, like a flaring tooth infection, you want to know that your Edmonton dentist is there for you. To that end, our website allows you to contact our office dispatch after hours so that The Tooth Doctor is there in your time of need.
Emergency Dental Care Examples
Swelling in the face or neck
Jaw pain or lockjaw
Extreme sensitivity of teeth due to infections
Chipped or fractured teeth
Broken dentures or loss of crown
Facial/dental trauma
Wisdom Teeth Removal
The Tooth Doctor's dentists are highly trained and experienced in wisdom teeth removal. Why take wisdom teeth out? Wisdom teeth are a third set of molars in the back of your mouth. They usually come in between the ages of 17 and 25, and they're spotted on X-rays. Most people have them removed for one of these reasons:
They are growing in crooked because they are located so far back in your mouth
They are difficult to reach and clean so you risk damaging other healthy teeth
Your jaw has no room for an extra set of molars which results in an impacted tooth
You have cavities or gum disease
Root Canal Treatment (Endodontics)
Root canal treatment, or Endodontics, is typically a pain free procedure and is meant to remove diseased or necrotic (dead) pulp from the tooth's root. This allows a tooth to be saved when it might otherwise have to be extracted and can prevent the development of an infection which may develop into an abscessed tooth. Once completed, your tooth should be examined periodically (usually every 6-12 months) to ensure that the tooth is healing properly.
Want to Have Straight Teeth and a Beautiful Smile?
The Tooth Doctor provides Invisalign® in Edmonton and Tofield. Invisalign® takes a modern approach to teeth straightening. The Tooth Doctor makes precise dental molds of your teeth then Invisalign® creates a custom-made series of aligners just for you and only you.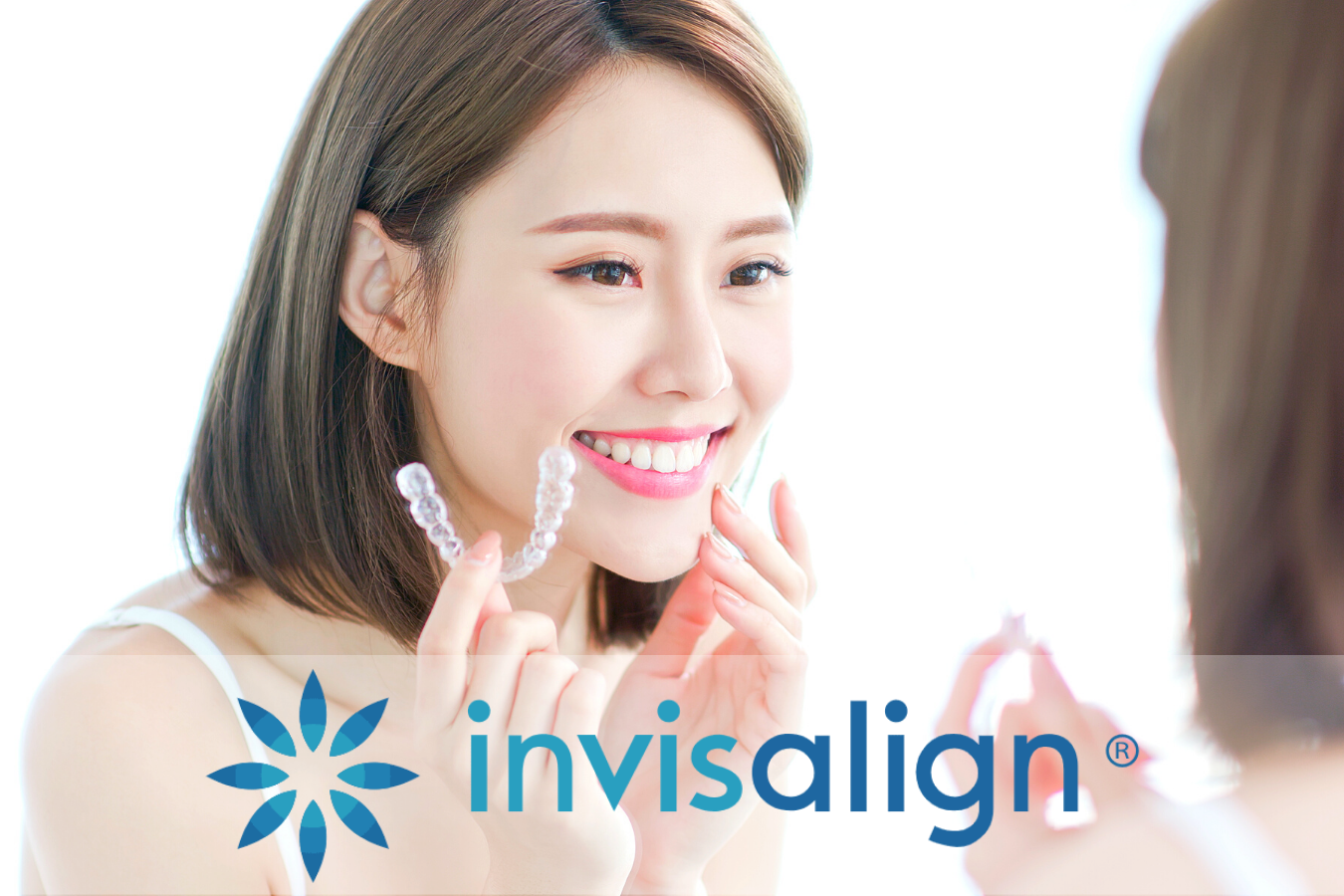 Tooth Whitening
Teeth can darken over time for a number of reasons such as coffee or tobacco stains and aging. The Tooth Doctor provides teeth whitening services to our patients as a take home solution. This at-home bleaching system requires purchasing a peroxide-based bleaching solution from your dentist or pharmacist. Usually coming in a carbamide peroxide gel form along with a mouthguard, you place the gel into the mouthguard and use as directed. The Tooth Doctor's dentists will help you determine the correct duration and intensity of your treatment to best suit your needs.
Are you an active person who plays a lot of sports and worries about the possibility of damaging your teeth? Do you grind your teeth at night and wake up with a severe headache in the morning? We have the solution for you at The Tooth Doctor.
Custom Fit Mouth Guards
Mouth guards should be used by anyone — children and adults — who play contact sports such as football, boxing, soccer, ice hockey, basketball, and field hockey. However, even those participating in non-contact sports or any recreational activity (for example, skateboarding, mountain biking and gymnastics) that might pose a risk of injury to their mouth, may benefit from wearing a protective mouth guard.
Night Guard
It might be time for you to consider a night guard. Talk to us if one or more of the symptoms happen to you:
Swelling on the side of your face
Trouble chewing or a sudden uncomfortable bite as if the upper and lower teeth are not aligning correctly
A tired feeling in your face
Clicking, popping, or grating sounds in the jaw joint when you open or close your mouth
Problems when you try to open your mouth wide
Pain or tenderness in your face, jaw joint area, neck and shoulders, and in or around the ear when you chew
Facial Esthetic Injectibles Treatment
Facial injectables can be used to treat problems associated with TMJ/TMD.
Smile lines and frown lines can affect your smile. The Tooth Doctor, Peter Yoo DDS is qualified and certified to administer injectable treatments to make your smile the best it can be.
Schedule your appointment Now