What Are Dental Implants?
Dental implants are simply an artificial root (usually made of titanium) that is surgically placed into upper or lower jaw bones. The dental implants Edmonton replace your missing teeth and provide a solution to the challenges that a denture wearer may experience. The practice of implant dentistry requires expertise in planning, surgery and tooth restoration; it is as much about art and experience as it is about science.
Dental implants are one of the most reliable and long-lasting ways to replace missing teeth. With screw-like devices, the dentist inserts an implant into the jawbone, and it acts as an anchor for an artificial tooth – called a crown. A device called an abutment connects the artificial tooth to the dental implant Edmonton. The crown is custom made to fit your mouth and match the color of your teeth. Crowns look and feel like natural teeth.
Why Are Dental Implants Edmonton So Popular?
– Natural look and comfortable fit
– Long-lasting and reliable
– Improve ability to eat and chew
– Prevent bone loss and support natural teeth
– Support your facial structure
Can Anyone Get Dental Implants?
In most cases, anyone healthy enough to undergo a routine dental extraction or oral surgery can be considered for a dental implant; however, dental implants Edmonton are not suitable for everyone. Therefore, you need to be seen by an experienced Edmonton Dentist for a full exam of your gums, jawbone, and other structural support to know if you are a suitable candidate prior to the implant procedure.
To find out if you qualify to get dental implants Edmonton, fill out our web form or contact one of our three locations to talk to our qualified experts!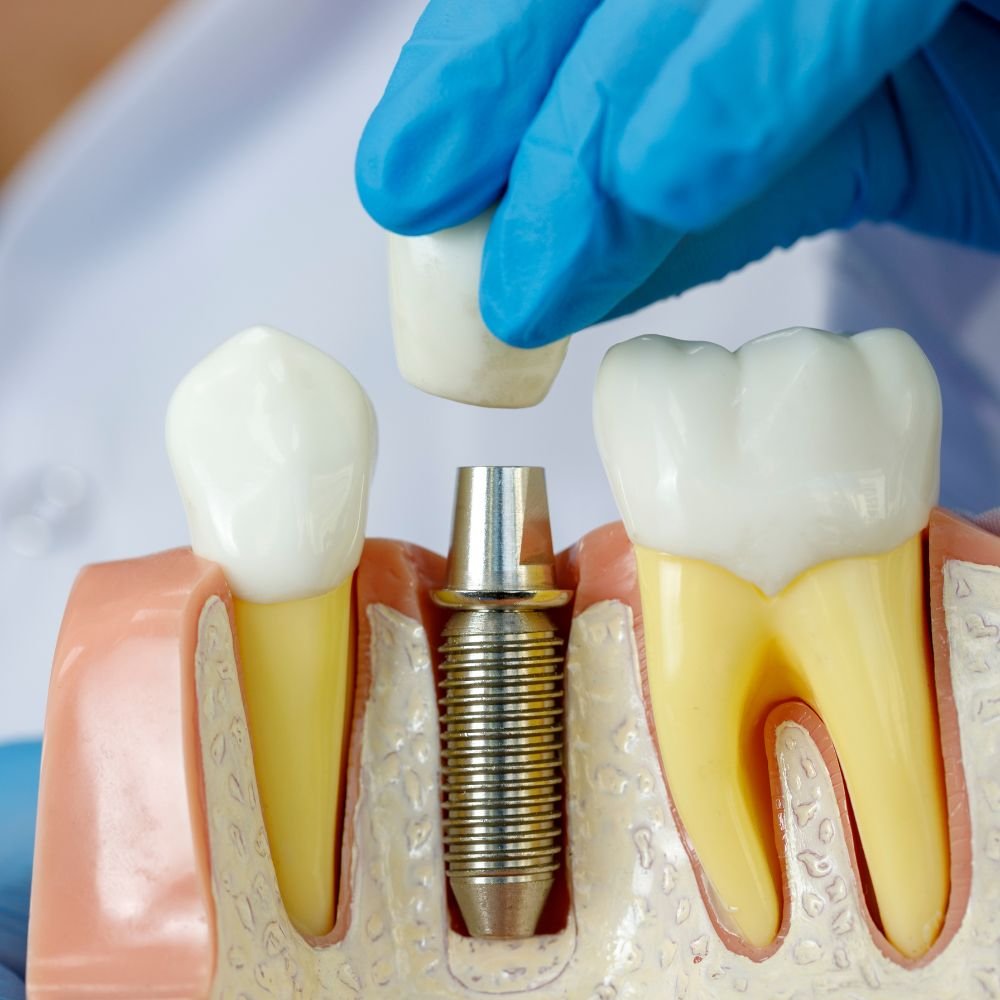 Contact Us
Emergency Dental Care
Our office has extended weekend and evening hours. Our staff provides our patients with the prompt treatment they need, when they need it.
How Painful Are Dental Implants Edmonton?
Ever get a filling on your tooth? You can expect a similar experience with getting an implant. After the area is completely numb, the dentist can make an incision to expose the jawbone. Then, a hole will be made for the implant. The process of numbing the area, making the incision, drilling, and installing the implants will take about an hour. Once the dentist is satisfied with the placement, they will close up the incision with sutures. While the local anesthetic is still in effect, you will feel no pain at all.
Once all procedures are done, the dentist will give you a prescription so that when the anesthetic wears off, you will have minimal discomfort. Surprisingly to many, they experience little to no pain the next day.
How Do I Care for Dental Implants?
After having undergone dental implant surgery, you must continue to brush and floss your teeth regularly. Artificial teeth require the same care and maintenance as natural teeth. It is essential to visit the dentist for an annual checkup and regular professional cleanings.
Dr. Peter Yoo can provide not only dental implants Edmonton but also other treatment options in Edmonton. Find out if dental implants are right for you and receive an initial estimate of time and cost.
Book a free consultation to restore your smile and confidence!
Schedule your appointment Now