Dentist in Edmonton | Teeth Whitening at The Tooth Doctor
You are making a smart choice when you opt to have your teeth whitened at the dentist. The Tooth Doctor is a great Edmonton and surrounding area dentist to help you with all your dental needs. Many of our clients start visiting us to meet their dental health needs because of our three convenient locations. However, many come back because they realize from the first visit, we are a dentist and staff who genuinely care about you and your family. Our motto is to save as many teeth as possible, for as long as possible for as cheap as possible.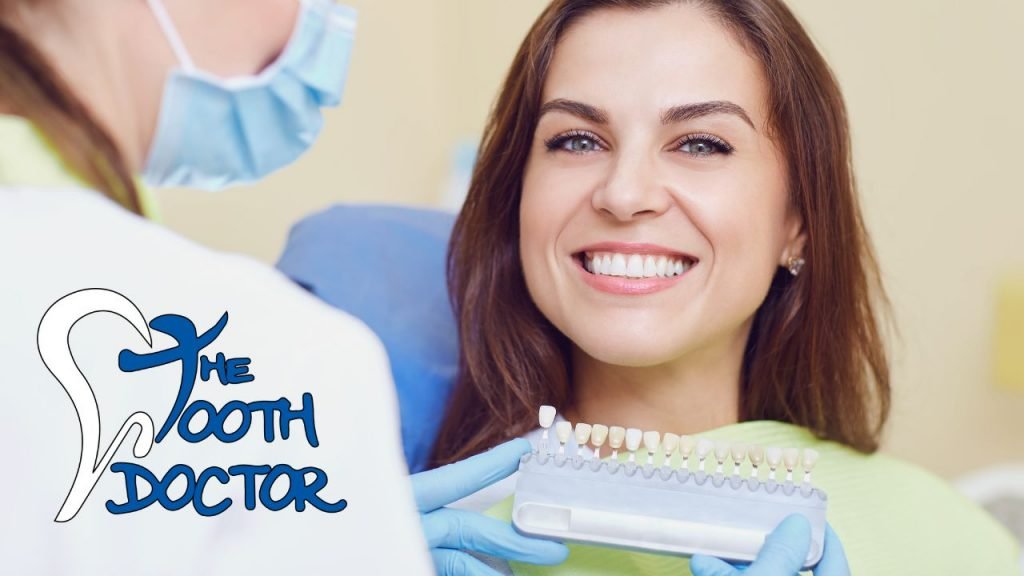 We know how important good dental health is and that it can be a scary or overwhelming experience for many from the first visits as a child. There are many highlights and reasons that people continue coming to our dental clinic.
Kids love visiting The Tooth Doctor. We have them laughing and feeling relaxed from the moment they sit in the chair. Dr. Yoo, our founding owner, is a great father himself and really understands how to help kids feel comfortable at the dentist. He has four boys of his own and is a wonderful family-oriented person. He can usually be heard cracking jokes and getting all patients to laugh and feel at ease. This is his one of his best qualities. He makes it fun visiting the dentist.
Another great quality about The Tooth Doctor is that it is an affordable experience that the whole family can take advantage of. Dr. Yoo's goal is to be sure that everyone has access to great dental care and teeth whitening systems. Therefore, he has three locations and extended evening and weekend hours. It is important to help as many people as possible.
When you visit any of the three locations you will see a clean, modern space that is inviting. In addition to that you will notice the latest technology and equipment being used to meet your dental needs. The Tooth Doctor offers general dentistry services as well as specialized ones. There is dentistry for everyone. Even if you have a dentist already but would like to have a second opinion, Dr. Yoo is more than happy to provide that free of charge.
Maybe you never thought of going to the dentist to have your teeth whitened because you were under the impression that you could get great results on your own through over the counter drugstore products or even home remedies you have seen on YouTube or the like. As you read you will learn more about the benefits of having the dentist whiten your teeth. You will likely want to book a call to get a free consultation by the end of reading about the details that follow in this article.
Great Teeth Whitening at The Tooth Doctor
One thing to understand about teeth whitening is that it is much more effective when you enlist the help of the dentist. Over the counter or drug store products are not the same in comparison. The great thing about the dentist doing your teeth whitening is that you get custom made trays to fit your teeth. This is especially great because the results are even. When using kits or strips you tend to get patchy results due to the strips not fitting your teeth well. Another thing that the dentist offers is the highest concentrate of bleaching gel available.
You do not get access to this in a drugstore product. It is not sold outside the professional dentist's office. Once you have the custom-made trays you are able to take the whitening system home. At home you have the option to whiten and re-whiten your teeth as you see fit. You can find the color you prefer and top it up at any time.
Once you whiten your teeth once, unfortunately they will not stay white forever. Eventually they will dull down after time. As you continue to consume the same foods and drinks as before, your teeth will discolor again. The good news is the at home custom teeth whitening system is readily accessible for your use.
If you have ever looked for a natural way to whiten your teeth you may have come across some pretty extreme ideas. Some people suggest you suck on lemons to help whiten your teeth. This is a very harmful and unfruitful method even though lemons are involved. The acid from the lemons can eat away at the enamel from your teeth. This can cause major sensitivity and irreversible damage. Any abrasive used on your teeth can cause this same reaction leaving you with permanent damage.
On the other hand, some individuals believe that whitening your teeth causes enamel damage. If you seek the professional services of your dentist, you are well cared for. This is why you go to a dentist and not a beauty salon or over the counter place to access teeth whitening methods. You are always safest in the hands of the dentist who is an expert when it comes to dental health.
Fantastic Teeth Whitening at The Tooth Doctor
When you come into The Tooth Doctor, Dr. Yoo will be sure to check your teeth over first before doing any teeth whitening. It is always best to know the state of the health of your mouth before starting any special services like teeth whitening. One thing you will learn is that having your teeth cleaned, scaled, and polished regularly will keep them whiter and for longer. This is one of the best ways to remove stains. To keep your teeth whiter for longer you may consider switching your diet to a lighter colored one.
The typical causes of discoloration are bright colored foods and drinks, like tomato sauces, red wine, and coffee. You will also see discoloration from smoking. As plaque sits on the teeth it causes tiny pits in the teeth to form and food colorants get in those holes. This causes the discoloration. The best way to combat discolored teeth is to have healthy oral hygiene, like brushing, flossing, and using mouthwash consistently.
Thank you for reading this article today. Make sure to keep a watch out for further articles about professional teeth whitening services from us!